Sedan sommaren 2016 är vår vedeldade bastu klar!
Alla priser gäller för 2019.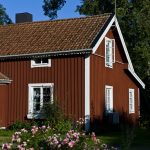 At Åsa Farm you can stay in a typical Swedish Stuga,which is red with white corners. The house is a bit older already, but modern furnished and equipped with everything you need for self-catering. The house has 5 rooms, a kitchen and a bathroom. Three bedrooms with 6 beds offer comfortable space for our guests. More Information and picture can you find here!.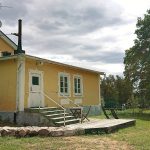 In the big yellow mainhouse is a flat, which you can rent. The house was built in the 18th Century and has its historical charm. Today it is modern equipped with under floor heat, electricity and water. To the flat belong 2 sleeping rooms, a big kitchen, and a bathroom. There are 3 beds and a sleeping couch (120 cm).
Check on our calendar, if your holiday-time is available!
Our sauna by the lake became ready for use in 2016!
The estate has history that goes all the way back to the 18th century. Among others were inhabited by lieutenant Karl-Otto Johansson (1871-1880), Captain Karl Kristian Herman Phalén (1880-1886) and professor Gustav Vilhelm Sjöstedth (1887-1892).
The estate is located at the shores of Lake Solgen, which has got a rich fauna and is a widely appreciated fishing-lake with a large number of the great fish Zander, a very delicious local fish
Prices for 2019.